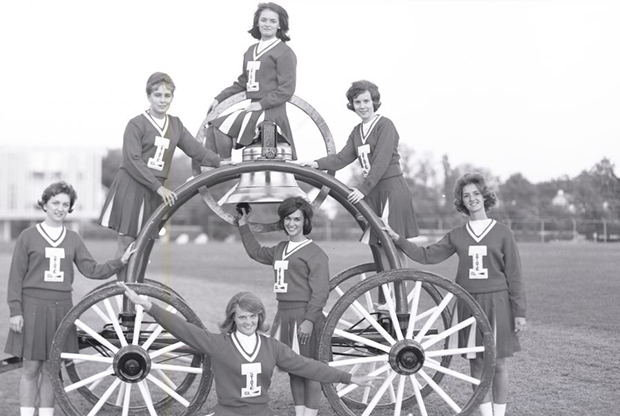 Built by students in the summer of 1964
Leads the football team onto the field before every home game
A Redbird football tradition
1964

Victory Bell

The Victory Bell has been on the sidelines at Hancock Stadium for ISU game days since the 1964 football season. It came from an old Navy ship and was procured from Carlock by an ISU cheerleader. Members of the "Redbird Rooters" student group, including Chuck Witte '71, Eric Oliver, and Jim Tischler, spent the summer of 1964 working on the bell. It was rung for the first time at Homecoming in 1965 as part of a celebration marking the return of President Robert Bone from a six-week tour of Egypt.

The Victory Bell played a key role in Illinois State's former crosstown rivalry with Illinois Wesleyan. Students at both campuses were known to play pranks on each other. In September 1967, Wesleyan boosters stole the bell and chained it to a building on their own campus. The bell was returned, and the Redbirds went on to beat the Titans three days later.

Today the bell leads the team onto the field prior to kickoff, is rung after every Illinois State touchdown, and is a mainstay of the annual Homecoming Parade.